Skip Main Content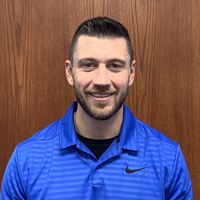 Josh Lombardi, PT DPT
ROLE:
Physical Therapist
SPECIALTIES:
LANGUAGES:
WE CARE ABOUT YOUR FEEDBACK!
Please take a moment and let us know how your experience was.
REVIEW US
Meet Josh Lombardi, PT DPT
Dr. Lombardi started his career in the United States Marine Corps where he developed extensive leadership and teamwork skills. After serving Dr. Lombardi attended Indiana University of Pennsylvania where he received a Bachelor of Science in Exercise Science. After completing his undergraduate studies he decided to further his education and attended Youngstown State University where he received a Doctorate of Physical Therapy. While attending YSU Dr. Lombardi's main focus was training in manual therapy, functional rehabilitation, strength training and proper biomechanics while exercising. After receiving his doctorate Dr. Lombardi has been working as a Director of Physical Therapy in an outpatient setting with a focus in sports medicine. Dr. Lombardi's passion is to provide the highest quality of patient care. For this reason he is also a certified functional strength coach. CFSC is the gold standard in functional strength training and injury prevention. Dr. Lombardi believes that every patient needs an individualized plan of care. With being a physical therapist and certified strength coach, he has the ability to develop unique strategies for his patients to eliminate pain, improve functional mobility, and return to their sport. At P.O.W.er Performance any Physical Therapy all of our patients and clients receive the same care and attention. We thrive in manual therapy techniques and believe that all patients should receive hands on care every visit. We know whether you are post-surgical or an athlete trying to advance your functional performance, and we have the knowledge and capability to help you reach all of your goals.
Education
Indiana University of Pennsylvania

Youngstown State University
Thank you for subscribing!
You will receive important news and updates from our practice directly to your inbox.
Thanks!